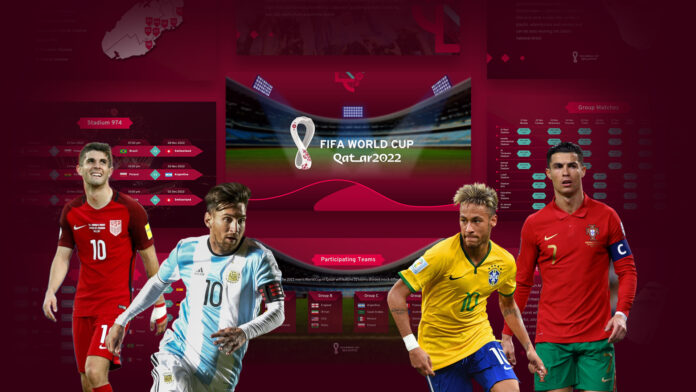 The 2022 FIFA World Cup will be held in Qatar. It will be the 22nd staging of football's greatest event, the second to be held in an Asian country and the first in an Arab country.
France is the defending champion, having won the 2018 World Cup in Russia by defeating Croatia, 4-2 in the final.
A total of 32 countries will be participating. This edition of the World Cup will be the last to feature this, as the tournament is set to expand to 48 teams in 2026.
For the first time, the tournament will be held in the months of November and December, as requested by the host country. Qatar cited the searing heat of the west Asian summer as the primary reason, causing the leagues in Europe to insert a lengthy break to accommodate this adjustment in the calendar.
World Cup Detailed Guide
Qualified teams
– Returnees and notable absences
– Draw
World Cup Venues
World Cup Schedules
– Opening match
– Group stage
– Knockouts stage
– Final stage
Players
Ticketing
Sponsors
Qualified teams
Joining the hosts are 31 other teams that were pruned down from 206 competing nations that competed in the qualifying process that started in 2019. Qatar will be the lone debutant this year.
Europe had its earliest qualifier when Germany booked its place in October 2021. UEFA also has the most qualification slots with 13; ten advancing via topping their respective qualifying groups.
The three other qualified squads came by way of playoffs, with Poland, Portugal, and Wales catching the last bus to Qatar. Y Dreigiau were the last one to make it, defeating Ukraine on June 5.
Asia has the second-most number of entrants with six, including the hosts. The qualification matches began in June 2019, but it was not until January this year that an AFC member officially booked a seat to the tourney due to delays caused by the pandemic.
Excluding direct qualifier Qatar, Iran was the first Asian country to get through. Joining Team Melli were Japan, South Korea, and Saudi Arabia. Australia made it by beating Peru via shootout in the intercontinental playoffs that was held on June 13.
Meanwhile, the African continent will be represented by five teams: Cameroon, Ghana, Senegal, Tunisia, and Morocco. Over in South America, Brazil, Argentina, Uruguay, and Ecuador emerged from the ten-team double round-robin format.

Finally, North America will be bannered by Canada, Mexico, and the United States after they lorded over the so-called "Octagonal". Costa Rica punched the final ticket after edging New Zealand on June 14.
Returnees and Absences: fast facts
The playoff defeat of the All Whites means that Oceania (OFC) will not be present for the third consecutive World Cup.
24 teams that played in Russia 2018 will return this year.
Quarterfinalists four years ago, Sweden will not be traveling to Qatar. Also missing this year's tournament proper are Russia, Egypt, Nigeria, Iceland, Panama, Peru, and Colombia.
Canada returns to the FIFA World Cup after 36 years, ending the fourth longest drought in between appearances for a CONCACAF team. Cuba (84 years since 1938), Haiti (48 years since 1974), and El Salvador (40 years since 1982) are North American countries having the longest droughts.
Wales ended Europe's longest World Cup dry spell, 64 years after making a quarterfinal run in their 1958 debut.
After being knocked out by North Macedonia and failing to qualify for a second straight World Cup, Italy is the fourth reigning European champion to miss the tournament, after Czechoslovakia (1978), Denmark (1994), and Greece (2006). Also, the Azzuri are the only previous world champions to miss out, for the second World Cup running
Draw
The draw took place on April 1, with 29 teams already known. As part of World Cup tradition, Qatar, as host, is automatically seeded into A1.
Here are the complete results of the 2022 FIFA World Cup group stage draw: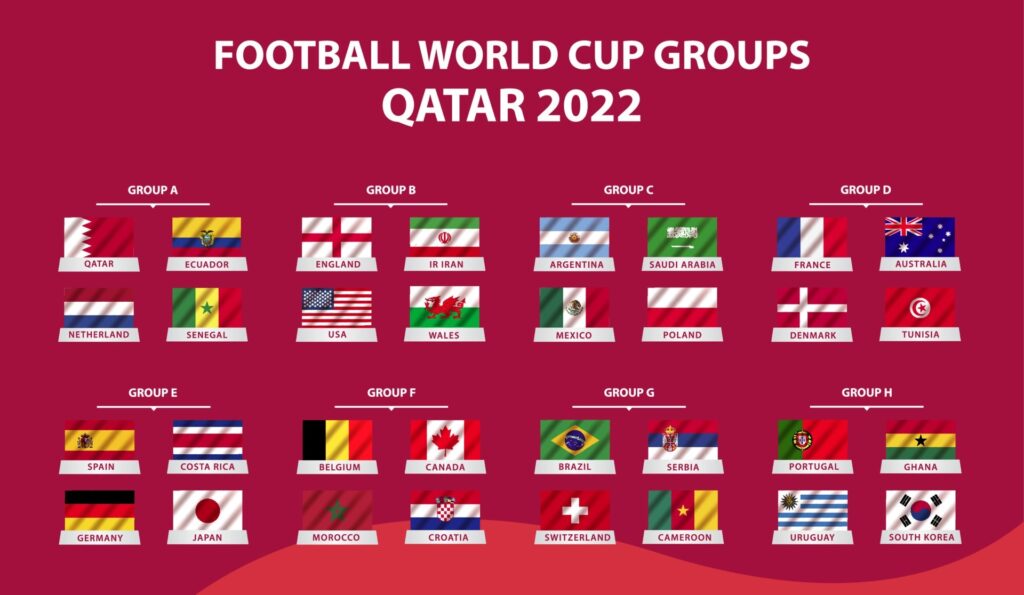 World Cup Venues
A total of eight stadiums will be used by Qatar in this tournament. This is the fewest since 1978 and the least in the 32-team World Cup era.
Since Qatar is a small country by land area, it is leaning on its proximity. Save for Al Khor, the venues are within the periphery of capital Doha.
Also, for the first time ever in the World Cup, all venues will have an equal share of hosting seven matches, from the group stage up until the first round of the knockout phase.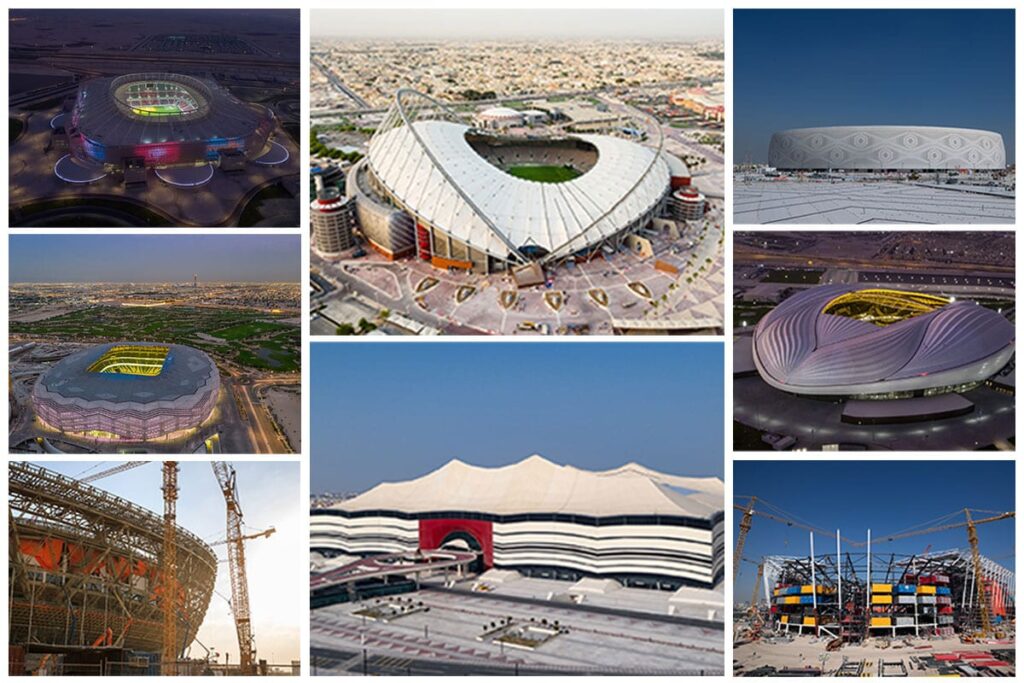 Here are the stadium details:
Notes:
All stadiums are built from scratch, except for Khalifa International and Ahmad Bin Ali.
Stadium 974 is the first ever and only modular stadium in this year's World Cup, as it is made of reused shipping containers.
Save for Khalifa, all stadiums will have their seating capacity reduced in half as part of their World Cup legacy, with 974 being totally dismantled.
Schedule: from opening kickoff to the final whistle
Opening match
As part of tradition, the host nation will play in the opening match, taking on Ecuador on November 20 at Al Bayt Stadium in Al Khor.
Group Stage
Including the opener, a total of 48 group stage matches will be played until 2 December. All matches will be played with 90 minutes regulation.
Three points will be given for a win and one point for a draw. The top two teams in each group will secure their passage to the knockout phase.
Knockout stage
The knockout rounds will comprise of the last 16, the quarterfinals, and the semifinals. There will be 14 matches that will be held until 14 December. The losing semifinalists will battle for the third place on 17 December.
All knockout fixtures will have an extra 30 minutes if scores are level after normal time. If the scores are still level, the penalty shootout from 12 yards will decide which team moves on and which goes home.
Final
The winning semifinalists will play the 64th and last match of the World Cup. Lusail will host the final on 18 December, which is also Qatar's national day.
Players
The 32 national teams involved in the tournament are required to register a squad of up to 26 players, including three goalkeepers. Only players in these squads are eligible to take part in the tournament. Some of the national teams have already published their list of players.
Group A: Ecuador, Netherlands, Qatar & Senegal
Group B: England, Iran, United States & Wales
Group C: Argentina, Mexico, Poland & Saudi Arabia
Group D: Australia, Denmark, France & Tunisia
Group E: Costa Rica, Germany, Japan & Spain
Group F: Belgium, Canada, Croatia & Morocco
Group G: Brazil, Cameroon, Serbia & Switzerland
Group H: Ghana, Portugal, South Korea & Uruguay
Tickets
The tickets for the 2022 FIFA World Cup sold like hotcakes the moment they became available.
For those who are curious, here is how much they are worth if you want to get them at the last minute.
| | | | | | |
| --- | --- | --- | --- | --- | --- |
| Match | Cat 1 | Cat 2 | Cat 3 | Cat 4 | Access |
| QAT v ECU (Opening) | 618 USD/616 EUR | 440 USD/438 EUR | 302 USD/301 EUR | 55 USD/55 EUR | 55 USD/55 EUR |
| Group Stage | 220 USD/219 EUR | 165 USD/164 EUR | 69 USD/68 EUR | 11 USD/11 EUR | 11 USD/11 EUR |
| Round of 16 | 275 USD/273 EUR | 206 USD/205 EUR | 96 USD/96 EUR | 19 USD/19 EUR | 19 USD/19 EUR |
| Quarterfinals | 426 USD/424 EUR | 288 USD/287 EUR | 206 USD/205 EUR | 82 USD/82 EUR | 82 USD/82 EUR |
| Semifinals | 956 USD/953 EUR | 659 USD/657 EUR | 357 USD/356 EUR | 137 USD/137 EUR | 137 USD/137 EUR |
| Third Place Match | 426 USD/424 EUR | 302 USD/301 EUR | 206 USD/205 EUR | 82 USD/82 EUR | 82 USD/82 EUR |
| Final | 1,607 USD/1,602 EUR | 1,003 USD/999 EUR | 604 USD/602 EUR | 206 USD/205 EUR | 206 USD/205 EUR |
Source: https://www.sportingnews.com/us/soccer/news/world-cup-tickets-cost-price-fifa-qatar-match-2022/n0ylcazcagi9nuutapmwcmwy
Sponsors
There are two main types of sponsorships: FIFA Partners and FIFA World Cup Sponsors. Here are the main sponsors of the 2022 FIFA World Cup.
FIFA Partners
Adidas
Coca-Cola
Wanda Group
Hyundai
Qatar Airways
Visa
FIFA World Cup Sponsors
Anheuser-Busch InBev
Byju's
Crypto.com
Hisense
McDonald's
Mengniu Dairy
Vivo