The Green Falcons came from behind, beating the world's famous Argentina player, Messi, for a historic FIFA World Cup win.
World Cup 2022 – Rolls Royce for all Saudi Arabia players for beating Argentina 2-1 as they started group C with a thrilling game.
More highlights here:
What a gift! Thanks to the Prince's generosity, and, of course, his wealthiness!
It has been reported that all Saudi Arabia players will be rewarded with a brand new $450,000 Rolls Royce for their victory against Argentina at the FIFA World Cup 2022. 
The team led Group C with three points after their victory over the reigning champions of Copa America.
Suffered the first goal when Lionel Messi converted the controversial penalty early in the first half. The Green Falcon warriors needed only 10 minutes after the break to turn the tide.
Sign up here for best offers from M88 Mansion x World Cup 2022
Saudi Arabia also set several records by being the first Asian side to defeat Argentina with two goals, winning the World Cup opener and beating La Albiceleste for the first time ever. 
After the victory, the whole nation got the next day off with no activities at work, schools whatsoever, only to celebrate the historic win.
The win was only Saudi Arabia's fourth in their World Cup history, so, it's worth to mark as annually non-working day on the national calender.
A translation of the country's official tweet reads:
"It is directed that tomorrow, Wednesday, be a holiday for all employees in all sectors of the state and the private sector, and male and female students in all educational stages."

Then came the Rolls Royce…
Saudi Arabian Prince Mohammed bin Salman Al Saud reportedly rewarded each player with a Rolls Royce Phantom, the news broken by Suhel Seth, an Indian business man.
The thrilling present that the Prince gave Saudi Arabian footballers gained people's attention and became popular on Twitter.


According to Awab Alvi, a well-known social media activist and dentist, the news was confirmed legit.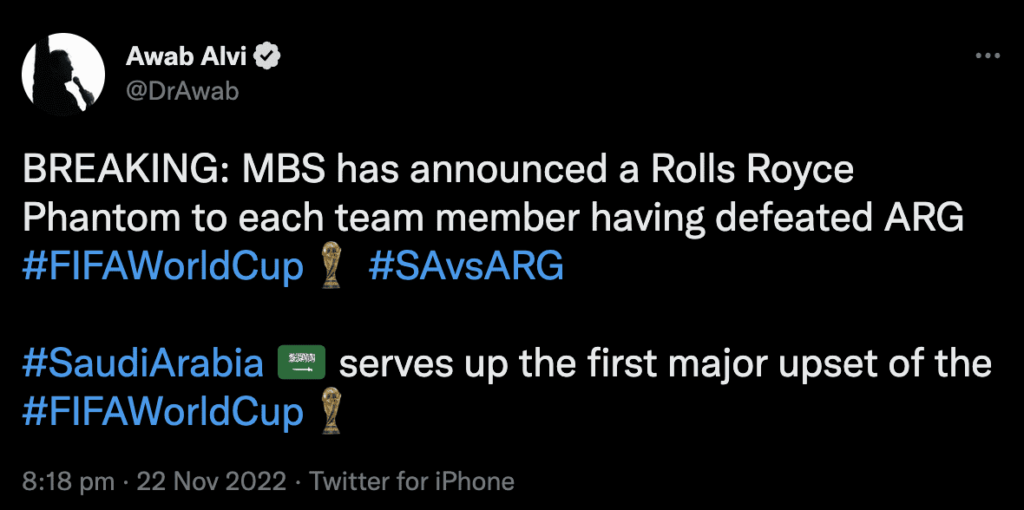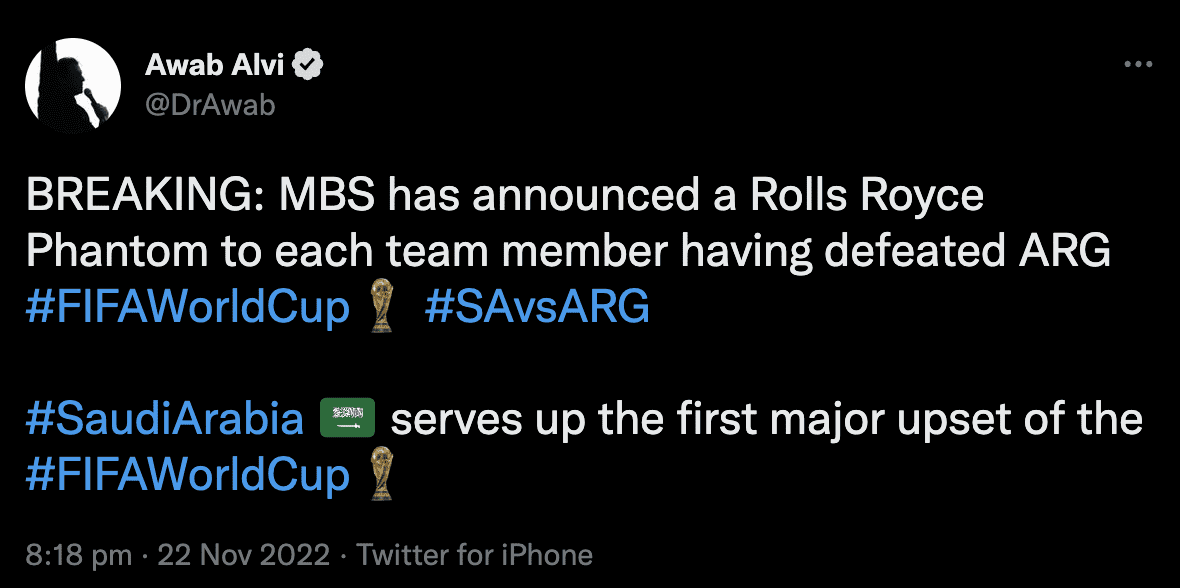 However, there has been no official word from Saudi Arabia, yet.
Saudi Arabia will face Poland in the next World Cup game on November 26