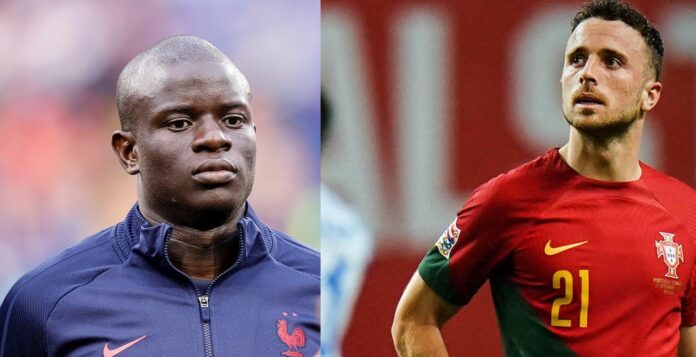 France and Portugal lose their key men to injuries, which was a big blow to their respective World Cup campaigns when it kicks off a month from now.
N'Golo Kante and Diogo Jota are among the big names in football that will miss the sports' greatest showcase in Qatar, owing to their knocks last week
Didier Deschamps' plans in their defence of the title they've won four years ago in Russia took a massive hit with his midfield engine set to miss four months after taking a successful hamstring surgery.
The Chelsea midfielder had been out of action since August 14, when went off limping six minutes before full-time in their 2-2 draw at home to Tottenham in the Premier League.
Apart from Kante, Paul Pogba is also in a race to get himself fit, as he went under the knife to repair his knee a month ago.
REGISTER TO PLAY AND AVAIL THE PERKS ON M88
France will take on Australia, Denmark and Tunisia in Group D, with Les Bleus hoping to end the curse of defending champions that afflicted the European sides since 2002.
On the flipside, his Blues teammate Reece James is listed as doubtful after he suffered a knee injury he incurred in their away win at Milan in the Champions League. He remained in Italy for another day before returning on a low-cost flight back to London.
His medical issues present a massive headache for Gareth Southgate who are having problems on the right side of his backline, with the likes of Kyle Walker and Trent Alexander-Arnold have varying issues of their own
The Three Lions are on the World Cup's Group of Death, and will face Iran, United States and Wales.

As for the 22-year-old, the race is on to stay fit.
Meanwhile, Liverpool also confirmed that the 25-year-old will not be joining Fernando Santos' team to the gulf, as confirmed by Reds boss Jurgen Klopp.
Jota had to be stretchered off during the last minutes of their home win over Manchester City in league play last Sunday.
A serious calf injury will rule out the former Wolves man for "months."
He himself took to twitter to express his frustration of missing out of his ultimate dream, as he will have to wait to add to his 10 goals in 29 appearances for Os Navegadores.
Sans the wily winger, Portugal will have to lock horns with Uruguay, South Korea and Ghana in Group H.