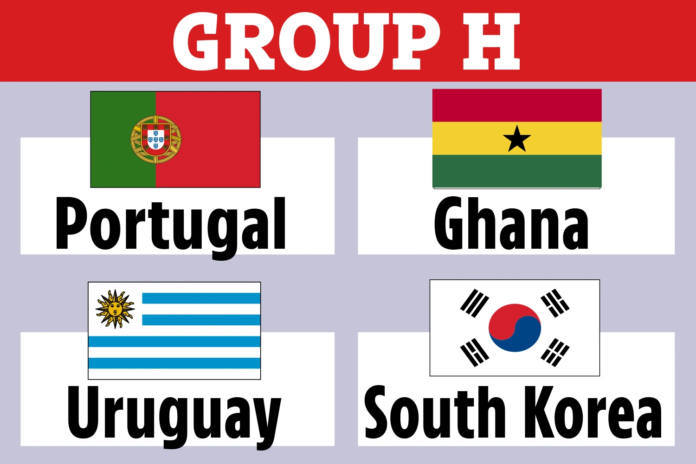 2022 FIFA World Cup Group H Preview
Group H of the World Cup has former European champions Portugal, two-time world champions Uruguay, former World Cup semifinalists South Korea and African mainstays Ghana. 
Their matches will be played in November 24, November 28, and December 2 in four different venues: Al-Rayyan's Education City, Lusail, Doha's Stadium 974 and Al-Wakrah's Al-Janoub.
PORTUGAL
FIFA RANK: 8
Key Players: Cristiano Ronaldo, Bruno Fernandes
How they qualify: UEFA Second Round Path C winners (Runner-up in group A, First Round)
Best World Cup performance: Third place, 1966
Portugal were minutes away from booking a direct place to Qatar at home when they are nursing a draw, but Serbia snatched it away at the final minute in Lisbon to win group A instead. They made the most of their second chances in the playoff and won with ease over Turkey and North Macedonia in Porto for their sixth straight World Cup appearance.
Cristiano Ronaldo will probably have his last chance at glory as he is 37 by the time Qatar 2022 rolls in. And alongside Manchester United teammates Bruno Fernandes and Diogo Dalot, they are installed as group favorites.
URUGUAY
FIFA RANK: 13

Key Players: Luis Suarez, Edinson Cavani
How they qualify: CONMEBOL third place
Best World Cup performance: Champions – 1930, 1950
La Celeste was in trouble to miss out on qualifying following their fourth straight defeat on their campaign, where they were stuck at 16 points with four matches left. The defeat at Bolivia was the last match in Oscar Tabarez's fabled career, which included a semifinal run in the 2010 edition.
Former Inter Miami manager Diego Alonso, a former Uruguay international, steadied the ship and got them over the line by winning the rest of their fixtures, with their home win over Peru on the penultimate matchday sealed their qualification for their fourth straight World Cup.
Alonso will rely on the veterans of "El Proceso" such as Luis Suarez, Diego Godin, and Edinson Cavani to bridge the generations as it goes on a gradual rebuild towards Qatar.
Page Break
SOUTH KOREA
FIFA RANK: 29
Key Players: Son Heung-min, Lee Kang-in
How they qualify: AFC Third Round Group A runners-up
Best World Cup performance: Fourth place, 2002
The Taegeuk Warriors have a relatively easy path to their tenth successive appearance in the World Cup, as they finished just two points behind Group A winners Iran. They qualified with just two matches to spare and had an unbeaten run of nine matches in the Third Round.
Paolo Bento will have a wide pool of talent and although they are depending on Spurs striker Son Heung-min, they also have a plethora of youth in them, among them was Mallorca's Lee Kang-in
GHANA
FIFA RANK: 60
Key Players: Andre Ayew, Jordan Ayew, Thomas Partey
How they qualify: CAF Third Round winners (via playoff)
Best World Cup performance: Quarterfinals, 2010
The vital away goal by Arsenal midfielder Thomas Partey against Nigeria in the second leg of their African playoff last March round saw the Black Stars return to the World Cup after missing out on the 2018 edition.
Although not yet finalized, former Ghana international Otto Addo will be staying on to lead them in Qatar following his playoff success. The former Dortmund winger has entrusted the leadership of Andre Ayew and Asamoah Gyan who were part of their golden generation in South Africa 12 years ago.
Marquee match: Portugal v Uruguay (November 28, Lusail)
There's no doubt that this is a titanic clash. With the winner not only having the three points, but also the upper hand ahead to the knockout phase.
Ronaldo and co. will have their time for revenge in their 2018 last 16 tie in Sochi, where a Cavani brace knocked them out of the competition the previous time they faced each other.
Who goes in?
Portugal and Uruguay will have an easy path, barring such upsets by either South Korea or Ghana. The only question was the result of their clash on November 28.