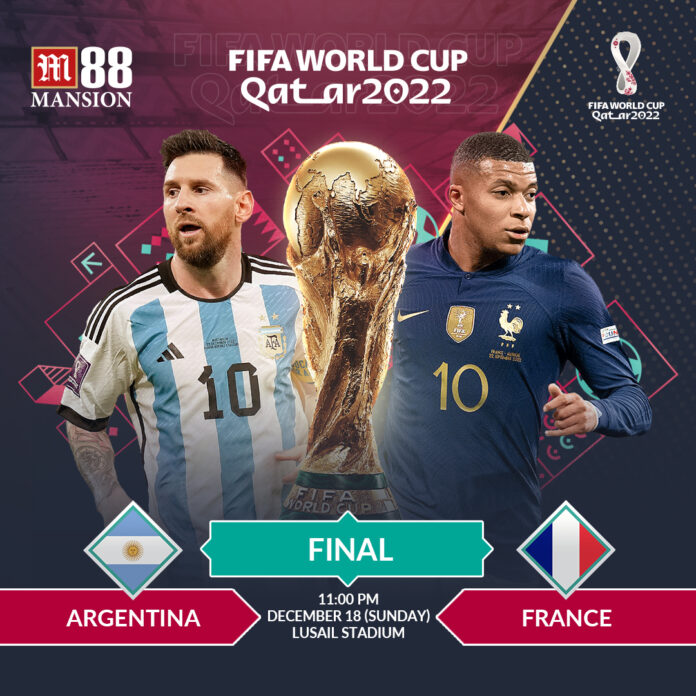 All roads lead to the Lusail Stadium as the 2022 FIFA World Cup final concludes what has been an exhilirating month-long tournament. For us in this part of the world where the late kickoffs are in the early morning, our body clock will finally return to normal.
As we wait for 18 December, let us go through this matchup with a fine-tooth comb and dissect every detail to give you the best World Cup betting tips.
Overview
Two teams with different motivations will set to face against each other. On one side, you have a squad looking to become the first country to win the title in back-to-back tournaments in 60 years. The opposite camp, meanwhile, has a living legend attempting to cement his legacy.
Which historic feat will be achieved?
Stats and Head-to-head
France and Argentina have met thrice at the World Cup with the latter winning two. The most recent though, a round of 16 entanglement in 2018, went in favor of France, 4-3. Kylian Mbappé compiled a brace in this contest, giving Les Bleus the lead with his first goal after they trailed, 1-2.
Les Bleus' calling card this year has been their prowess in finishing. All of their victories have them scoring at least two goals. Their best defense has been their offense, as they have been relying on outscoring the opposition to prevail.
As for Argentina, one thing was evident with them coming in: they have this swagger that was not present in previous iterations. They were not deterred when they lost to Saudi Arabia. Rather, it made their resolve stronger, even outlasting the Netherlands in a physical battle.
Road to the 2022 FIFA World Cup final
Argentina
defeated Croatia, 3-0
defeated Netherlands, 4-3 on penalties (2-2 at end of extra time)
defeated Australia, 2-1
defeated Poland, 2-0
defeated Mexico, 2-0
lost to Saudi Arabia, 1-2
France
defeated Morocco, 2-0
defeated England, 2-1
defeated Poland, 3-1
lost to Tunisia, 0-1
defeated Denmark, 2-1
defeated Australia, 4-1
Prediction
If we are going to follow trends, this could turn into a goal-scoring spree, what with two high scoring teams on the pitch. What is worrying is that they might play reserved and timid, leading to a slogfest instead.

However, true to their character, the match might open up once the first goal is scored.
For punters, predicting the match winner is nowhere near a guarantee. However, this makes for an entertaining encounter for sports and football aficionados.
Tips
Over 0.5 goals
M88 Mansion MSports 1X2 odds for the 2022 FIFA World Cup final
Argentina – 2.80
France – 2.75
Draw – 2.95