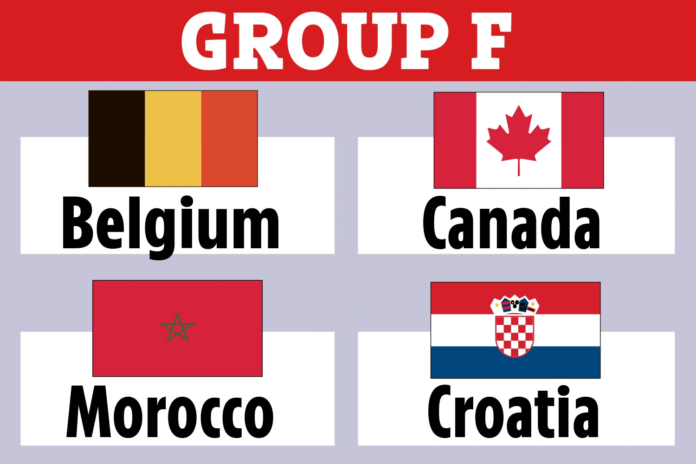 It may be the last chance for the Red Devil's golden generation, as they will be competing in 2022 World Cup at Qatar, group F with Croatia, Canada and Morocco. But the 2018 World Cup's finalist Croatia will look to repeat their magic, while Canada and Morocco promise to bring chaos.
Let's take a look as we preview and predict the outcome of the group composed of former top 1 FIFA ranking team and 2018 World Cup's finalist.
BELGIUM:
Key Players: Kevin de Bruyne, Romelu Lukaku, Thibaut Courtois
Road To World Cup 2022: Top of UEFA World Cup Qualifying Group E
The country's Golden Generation has never been able to go all the way, despite their potential with top talents like the likes of De Bruyne, Courtois or Lukaku.
The farthest the Red Devils has ever reached was 3rd place 4 years ago in Russia. Belgium is among the oldest squads of 2022 World Cup, sharing the same place with their group's rival Croatia.
They are still the favorites to qualify for the knock-out stage as top of the group (F), as they did in the previous 2 editions of World Cup (2018 and 2014).
CROATIA:
Key Players: Luka Modric, Ivan Perisic, Rakitic

Road to World Cup 2022: Top of UEFA Qualifying group H
The World Cup 2018's finalist would hope to rock the stage one more time, with their top players edging to, properly, the last chance to shine for their national team.
Modric would be near his 40 toward the next World Cup, as the nation's hero will hang his boots after Qatar, same goes with Perisic or Rakitic. The 2018 World Cup runner up has lost just once in its qualifying games to the tournament and will make its 6th appearance in just 7 editions (since its debut in 1998).
Croatia has never faced any of the teams in group F of 2022 World Cup, which will make the coming battles even more interesting.
CANADA:
Key Players: Alphonso Davies, Jonathan David.
Road to World Cup 2022: Top place of CONCACAF qualification standings
This is the real X factor of the 2022 edition of World Cup. The North American football national team is having their first time at the elite stage of world's football, after 36 years since the last time.
Canada will face Belgium for the first game of their campaign, and for sure, John Herman's side will go for goals and victories, not just for some numbers in history of World Cup.
They may be without some world class players, but the determination and ambition can match any other teams.
MOROCCO:
Key Players: Achraf Hakimi, Youssef En-Nesyri
Road To World Cup 2022: Beat Congo in play-off of AFCON qualification
Morocco must wait until the last game to seal their place in Qatar this year, with the 4-1 victory against Congo. However, this African side is nowhere to be messed around in their 5th World Cup appearance and 2nd consecutive trip to the biggest stage of football.
Morocco has some of the most talented squads of World Cup 2022, as Hakimi or EN-Nesyri were among the elite group from European top leagues.
Chelsea's start Hakim Ziyech's rejection of his latest call-up for his country did no damage to the mentality of the whole team. The African side still heads to Qatar with the target of breaking through the round of 16, where they fell to beat West Germany back in the 1986 World Cup.
PREDICTIONS:
Canada and Morocco will cause chaos in 2022 World Cup's group F, but the order will still be decided by the top 2 teams Belgium and Croatia:
Predicted finish: Belgium, Croatia, Morocco, Canada.
TOP FIXTURE
Of course, it will be the battle of top 2 sides and favorites as Belgium and Croatia will fight for the best outcome of group F.
Croatia vs Belgium (6:30 pm – local time) – Al Thumama Stadium