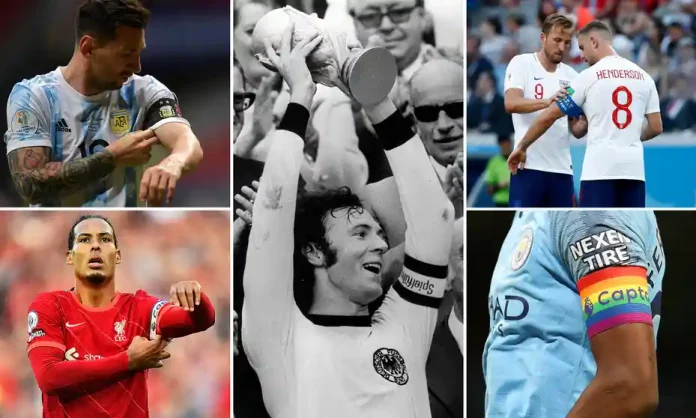 The 2022 FIFA World Cup team captain tier list
The captain of a football team is not usually the best player in the roster, but in most cases there are. The most important trait they should have is leadership.
They are the steady hand when things get contentious; they are levelheaded and composed when talking with match officials as well as their teammates and coaches; they are calm and collected during tense moments. These and more are the responsibilities of the one wearing the armband.
In this list, we will grade the FIFA World Cup 2022 team captains according to their performance as a player, their achievements, and their recent form.
S
Lionel Messi (ARG) – the reason we made a tier list and not a ranking system is so that there would be no argument who between him or Ronaldo would go as number one. Both may be in the twilight of their careers, but there is no denying the body of work they have compiled through the years.
Cristiano Ronaldo (POR) – see above.
A
Luka Modrić (CRO) – the only Ballon d'Or awardee since 2008 not named Ronaldo or Messi.
Robert Lewandowski (POL) – Some say he was robbed of the Ballon d'Or in 2021, but that is how the votes were cast.

Virgil van Dijk (NED) – a runner up in the 2019 Ballon d'Or voting, he sneaks in because of it.
Manuel Neuer (GER) – he is the only goalkeeper to end up in the top three voting for the Ballon d'Or since 2006.
B
Son Heung-min (KOR) – his goal in South Korea's group stage match at the 2018 FIFA World Cup eliminated then defending champions Germany. Since then, all eyes have been on him as he continues his exploits with Tottenham, most recently finishing with the most goals scored at the 2021-22 English Premier League, tied with Mo Salah.
Sergio Busquets (ESP) – this Barcelona lifer is a key figure in Spain's success that led to them winning the 2010 FIFA World Cup and UEFA Euro 2012. Busquets is also a crucial cog in the vaunted Blaugrana midfield line that has helped won numerous crowns for the club.
Hugo Lloris (FRA) – the second Tottenham Hotspur in this list, he is the leader of the French squad that won it all in 2018.
Gareth Bale (WAL) – he did something fellow Welsh great Ryan Giggs was not able to do: qualify to the World Cup. As Real Madrid's "BBC", he, along with Ronaldo and Karim Benzema, took the Spanish club to new heights in the 2010s.
C
Thiago Silva (BRA) – he is one of the many captains in rotation for the Seleção. Like van Dijk, he set a transfer fee record for a defender when he switched from AC Milan to Paris Saint-Germain in 2012.
Kalidou Koulibaly (SEN) – born and raised in France, he decided to represent his parents' homeland. Koulibaly was at the forefront when Senegal beat Egypt for the championship at the 2021 Africa Cup of Nations.
Andrés Guardado (MEX) – the 35-year-old has been with the Mexican team since 2005 and will be seeing action in his fifth World Cup.
Harry Kane (ENG) – yet another Spur. We are now wondering why it is hard for Tottenham to dominate the English Premier League. Maybe it is not enough for a club to have a roster of captains.
Granit Xhaka (SUI) – a natural born leader, he was made captain of Borussia Mönchengladbach in 2015 at the age of 22. He has been with the Swiss senior lineup since 2011 and have accumulated more than 100 appearances.
Eden Hazard (BEL) – Belgium is in the middle of a golden era, and he is at the helm. Hazard's best period of his career was his time with Chelsea.
Diego Godín (URU) – a long-time member of the Uruguay senior football crew, he is the country's all-time most-capped booter.
Tyler Adams (USA) – he emerged from the New York Red Bulls academy to become a mainstay as one of the captains of Team USA.
Enner Valencia (ECU) – not to be confused with the other Ecuadorian who shares his surname, he is the all-time top goalscorer for La Tri.
André Ayew (GHA) – one of two Al Sadd players in this enumeration, he has played in every Africa Cup of Nations tournament since 2008, except for 2013.
Vincent Aboubakar (CMR) – he has been to only three Africa Cup of Nations, but he has almost made each one count. Aboubakar scored the winning goal in the 2017 final and was the highest goal scorer in 2021.
D
Atiba Hutchinson (CAN) – he holds several distinctions as a Canadian international, such as having played the most caps for the country. Hutchinson is also the first North American to receive the Superligaen Player of the Year.
Ehsan Hajsafi (IRI) – the Iranian utility player has had an extensive international career, having been at the 2014 and 2018 FIFA World Cups, as well as the 2011, 2015, and 2019 AFC Asian Cups.
Bryan Ruiz (CRC) – he owns the honour of being the only Central American footballer to play at the UEFA Champions League, the UEFA Europa League, and the CONMEBOL Copa Libertadores.
Dušan Tadić (SRB) – the Serbian played at the 2008 Summer Olympics.
Simon Kjær (DEN) – a regular for Denmark, he has logged more than 110 international matches.
Yoshida Maya (JPN) – he has had 199 apps and 12 goals for Japan.
Romain Saïss (MAR) – first called up in 2012, he now has 63 international fixtures under his name.
Mathew Ryan (AUS) – he took over Mark Schwarzer as the Socceroos' first choice keeper. He was vital to Brighton's continuous presence at the English Premier League before he transferred to Real Sociedad in 2021.
F
Salman Al-Faraj (KSA) – also the Al-Hilal field general, he has been fielded more than 200 times in the only club he has been with.
Youssef Msakni (TUN) – he is a familiar face among Qatari fans, having played with Al-Duhail and Al Arabi.
Hassan Al-Haydos (QAT) – the local hero for the host nation, he has worn Al-Sadd's colors his entire stint at the Qatar Stars League, having notched more than 80 goals in over 260 apps.
Do you agree with our tier list of captains of FIFA World Cup 2022 countries?